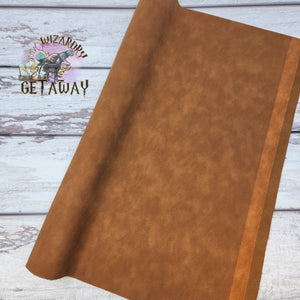 Suede Feel Vinyl

Size:  18" x 54"
Soft Woven Backing
Domestic Machine friendly (as always, the amount of layers will be determined by your specific machine)
Semi-Industrial & Industrial Machine friendly 

May show wrinkles when turning.
All rolls are pre-cut.  Multiple rolls of the same color will not be continuous.

A warm iron with a pressing cloth can be used on the Backing side of this vinyl.  
*Flaws:  Any mark less than the size of a quarter is not considered a flaw.
*Overall vinyl size is approximate.  Please allow up to a 1" difference in size listed above.
*Please remember that your screen resolution may alter the colors slightly.  
*Our vinyl is covered with an eco friendly coating during manufacturing and some rolls may have a chemical smell.  The suggested solution is unrolling the vinyl and allowing ventilation.