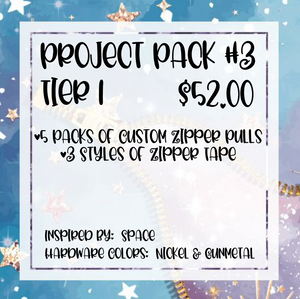 You are purchasing Project Pack #3 - Tier 1
Please see the cover picture of this listing for a description of the theme, hardware colors & a list of all items that are included.  All designs and additional colorways are a complete mystery! 
Zipper Pulls = Each pack will contain at least 5 zipper pulls.
Zipper Tape = 3 yard cuts of 3 different styles.
All zipper tape is #5 Nylon.  All pulls are made for true #5 nylon zipper tape.
If you don't like a surprise, then this isn't for you!  These items will be available for retail at some point after all packages have shipped.
**This is a pre-order and can take up to 12 weeks to arrive after the pre-order closes.**