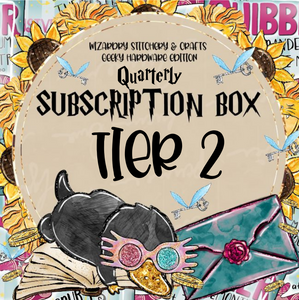 You are purchasing Subscription Box: Tier 2
This Box will include:
A combination of Zipper Pulls & Zipper Tape along with various hardware and other sewing supplies/notions/things.  This box can include ANYTHING!
Zipper Tape & Pulls can be any combination of #3 Nylon, #5 Nylon & Resin.

If you don't like a surprise, then this isn't for you!  Some of these items may be available for retail at some point after all packages have shipped.
**This is a pre-order and can take up to 14 weeks to arrive after the Subscription closes.**

Our Subscription Service will automatically select the cheapest shipping price for your order.  Use code "USPS" or "UPS" if you would like to specify a shipping company.  In the event of a shipping shortage of $1+ we will bill your Shopify email for the remaining balance.  If you don't have a preference, we will automatically use the cheapest option.