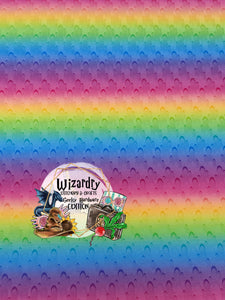 You are purchasing a roll of vinyl with a soft woven backing that is approximately 18"x54".  This vinyl changes colors slightly with movement.  This vinyl is great for sewing and embroidery.  Multiple rolls of the same color will not be continuous. 
Please remember that your screen resolution may alter the colors slightly.  The final product could be printed slightly different from the samples shown.
Flaws:  Any marks less than the size of a dime is not considered a flaw.
Please note:
This is a Pre-Order and can take up to 5 weeks to arrive after the closing date.
DOMESTIC SHIPPING will automatically be calculated to a LFRB for this item .  Any shipping overages of $1+ will be refunded if we are able to ship in a smaller package.
INTERNATIONAL SHIPPING is not available for this item due to the size.  Sorry for any inconvenience.
Shipping:  In the event that shipping is miscalculated, we will either refund your shipping overages of $1+ or invoice your Shopify email for the remaining balance owed.